A friend of mine told me about Hanes Underwear Fresh & Dry Period Panties that she tried. She told me they were amazingly absorbent. When I heard about Hanes Fresh & Dry Period Panties, I had to try them because I'm always looking for reliable and comfortable leak proof underwear.
First, let me tell you a little about the company Hanes. Hanes is one of the leading clothing company in US. They make casual clothing, underwear and accessories for men, women and children. The company was founded in 1901 by John Wesley Hanes.
My Review of Hanes Underwear
I have wore these panties on my 3rd and 4th day of my period. Since it was my first time I did not dare to wear it on my 1st day. I will update this section on my next period.
You should check our page for other panty reviews.
I have bought 3 pack brief set for $15.99. It has different colors beige, black and blue.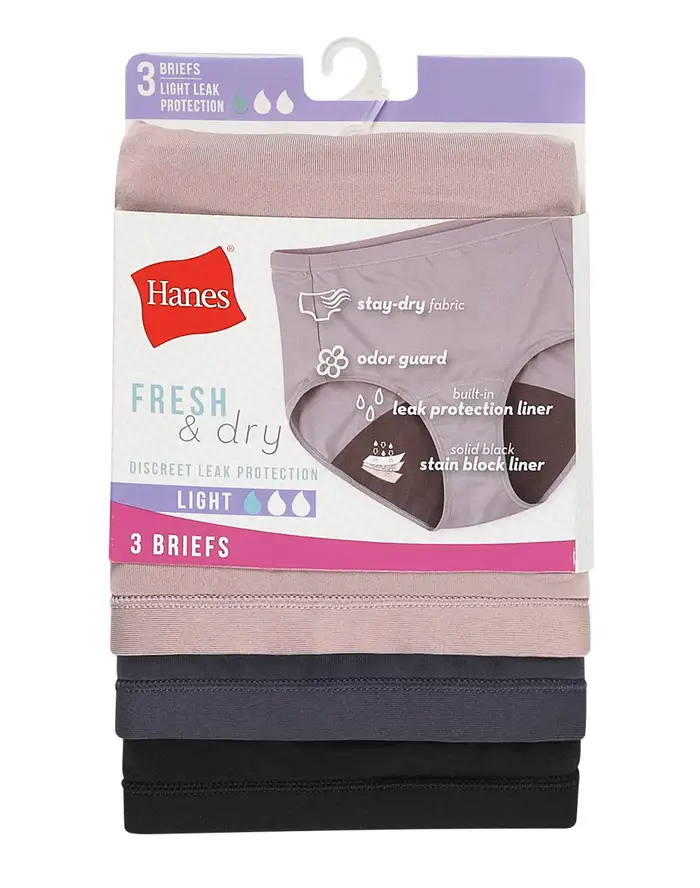 The first thing I did when I opened the package was to put them on and immediately inspect the crotch. I can say, with confidence, that this is a good product.
The absorbent area is soft and thick enough to prevent leaks. It is also thin enough to not feel like you're wearing a diaper. It feels like soft cotton that sits flat against me and curves nicely under my clothes so it doesn't bunch up in weird ways or show through at all.
I personally think that the front absorbent part should be more on the front but it was fine while using on my 3rd day of period.

They are very comfortable to wear. I ordered size 9, which is my normal size. It fit me well, they're just as comfortable as the regular panties I wear every day but these ones have a built in protective layer that prevents leaks from ruining my clothes or day.
I was very impressed with the quality of these panties. I've washed them twice now without any noticeable wear or tear so they seem like they will last a long time.
If you're looking for an alternative to wearing pads and tampons, this is a great all-in-one option, especially if you're trying to reduce waste or save money in the long run!