Trying to figure out what is your bra size never easy for women, even those who have been doing it for years. Even if you're the most fashion-savvy woman around, bra shopping can be an overwhelming and confusing experience. As your body goes through changes after childbirth, the weight of pregnancy, and breastfeeding or pumping, your breasts may have become smaller or larger. But there are a few tricks that can make bra shopping easier.
The best way to find out what your new Brasier size is is to be professionally measured by a lingerie expert. But if you don't have access to a professional fitter, the next best thing is to measure yourself correctly.
How To Measure Your Bra Size In A Few Steps Correctly
In the next three steps, we'll go into measuring your band size, then your bust size, and lastly, your cup size.
Here's how:
1. Find Your Band Size
If you already know your band size, you can skip this step. If not, wrap a tape measure around your back, directly underneath your bust. The tape measure should be level across your back and parallel to the floor. Unlike when measuring for a bust size, you want to get a snug measurement that doesn't leave any slack. If you don't have a tape measure handy (and who does?) you can use a piece of string to perform this measurement by wrapping it around your body in the same motion described above. Mark the string where it meets and measure that length with a ruler. That's your band measurement!
2.Find Your Bust Size
The tape should be laid flat against your skin. Wrap it around the fullest part of your breasts and then wrap it around to meet at the front where you started. Do not measure over clothing or anything else that may add extra fabric. Make sure that the tape is level and not twisted or stretched tight.
3. Find Your Cup Size
When you're figuring out your bra size, the most common way to do it is by subtracting the band size from the bust measurement.
You can use below chart to determine your Bra size for perfect fit.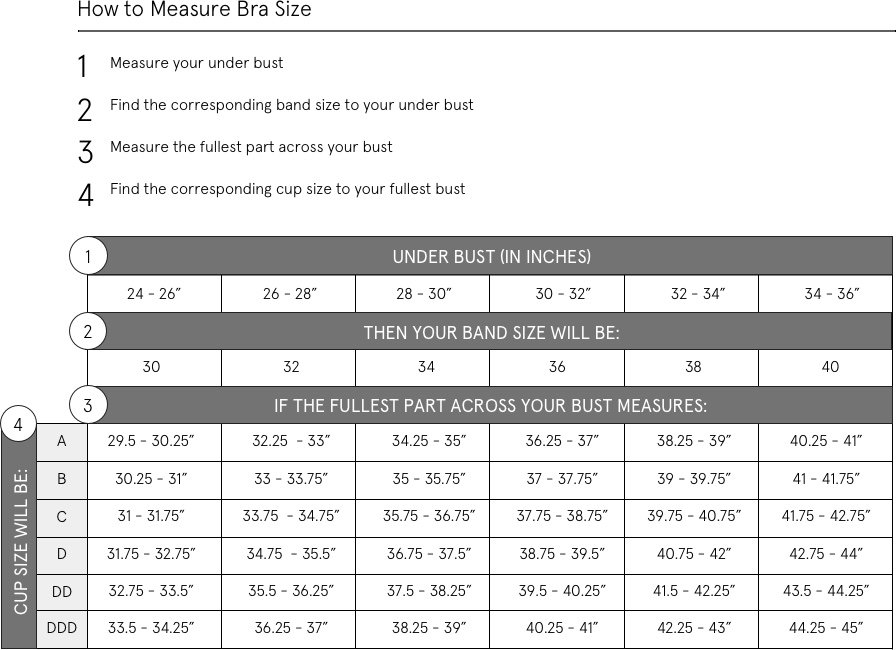 Bra size may differ from different lingerie brands. A B cup in one brand could be a C cup in another, so it is important to know your measurements and of course do not forget to check sizing chart before shopping for bra. You can also check our tips for best places to buy lingerie online.