I'm a lingerie addict. I love everything about it. The look of it, the sensuality of it , and definitely the feeling of it. Maybe that's why I also love trying out different brands and write about it. This week I decided to try out a lingerie brand, Tomboyx Lingerie.
Story Of Tomboyx Lingerie
The company was founded by Fran and Naomi to create an underwear that everybody could feel comfortable in, it does not matter which size they are or for any gender spectrum. Tomboyx launched in 2013, we could say that its quite new company however they did a great success in short time. The company's name was Gonzalez at that time and they were producing masculine clothing for women. They tripled their revenue in only six months -what a success story! They are still growing.
Sizing Of Tomboyx
At Tomboyx, not only do they have a massive size range starting from 3XS to 6XL, but unlike other brands out there, they cater to women of varied body types!
So if you've got a more athletic body-type, the range can accommodate that. But what if you've got more of an hourglass figure? No worries because Tomboyx can also make your body look amazing.
And the best thing is that all sizes are at same price!
My Review For Tomboyx
For this review I have bought Essentials Soft Bra – Black Rainbow and a matching brief.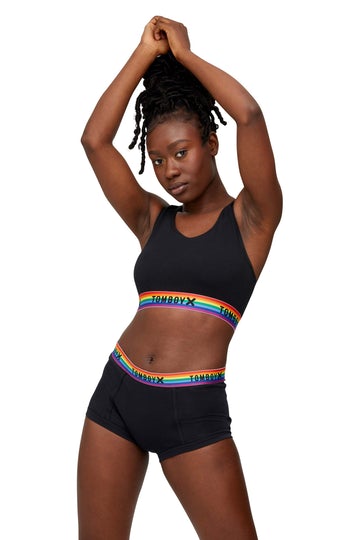 I love the bra, it's really soft. Even though it does not have a padding I wore it like a regular bra. It is comfortable to wear it, since it's winter time and I wore it layers over layers so no problem for me.
You can check our what is a binder bra and how it works.
Like the Tomboyx writing at the bottom of the bra, I wish the stitches were invisible on the back. If the Tomboyx writing was not overlapped, I would even wear it outside in the summer as a crop top.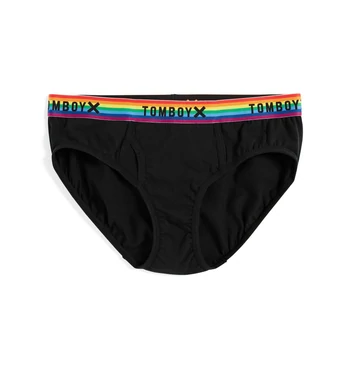 The Brief was comfortable and breathable, it is how I expected.
I paid $54 for the set, the quality of the material is good. You would feel comfy inside.
Well, the look and feel of tomboyx lingerie certainly matches their image. Their spirit is undeniably passionate about giving their customers the combination of comfort, style, and individuality that any body desires, regardless of anatomical gender.