Lingerie is an important part of any woman's wardrobe. It's not just about wearing what you feel sexy in, it's about feeling confident and empowered.
However, good lingerie can be expensive. If you are, working on a budget (like most of us), it can be difficult to find the perfect pieces for your collection without breaking the bank. In this blog post we will explain how to make your own lingerie! You will save money by making your own undergarment and have a perfect fit pieces for yourself.
Trust us it isn't as complicated as it sounds and can be an efficient and cost effective way of upgrading your wardrobe. With a little knowledge and a lot of creativity, you can make your own lingerie and have it be as beautiful as the expensive brands.
Where to Begin
Before you start sewing, decide what type of lingerie you would like to sew. Is it for everyday wear or for special occasions? Would it be thong, briefs, bra, etc.? Knowing the kind of lingerie you are going to make will help you know what materials you might need. You can use this sewing book as a guide.
Materials needed:
-Patterns – Mark the pattern pieces on the fabric with a pencil. You can check some patterns here
-Linen – Cut two pieces of linen measuring 11 inches x 12 inches.
-Sewing machine
-Thread – All purpose thread is best for this project as it is strong and durable enough to handle all types of fabrics.
How To Make Lingerie
Step 1 – Sewing A Panty
When you decide to sew your own lingerie, it is important to know what you want to make. If you are a beginner, it is a good idea to start small and try making a few pairs of panties or a bra. You can then move on to something bigger and more difficult as soon as you feel that you have gained enough experience in the field. By sewing a pair of panty is a great way to start. It may sound really simple, but it will give you the right foundation. You will learn how to measure and cut fabric, sew a seam, and finish the edges. And it just takes about an hour to make a pair of panties. You will only need small amount of fabric. Start with the basic panty styles and ones you are ready you can continue with more complex ones.
Step 2 – Sewing A Bra
Bra on the other hand is a little more tricky one. Forms and even simple patterns for bras that you use to make up your own bras can be easily found online or in many sewing books. And you will need a sewing machine, make up tools like safety pins, thread colours and an exacto knife for cutting out the pattern.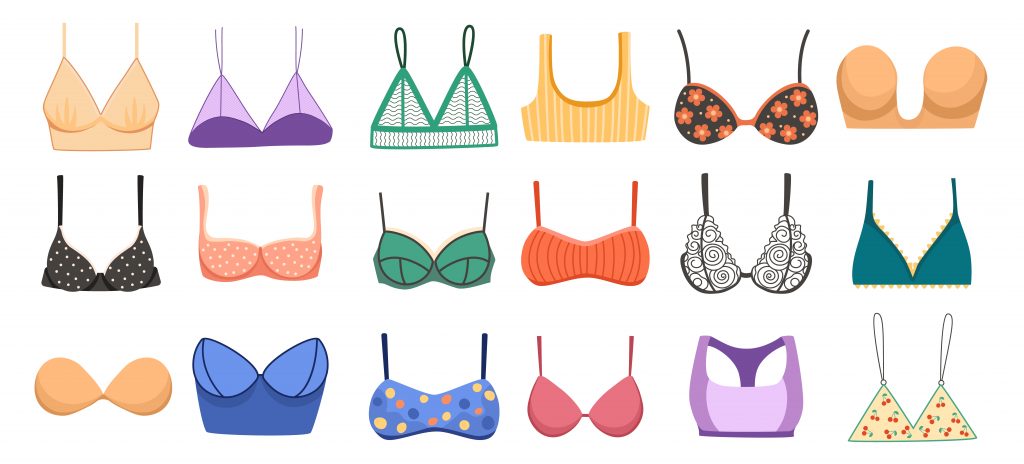 Be careful for below point while sewing a bra;
The cup size is correct: This one's really important. Most people get this wrong, even experienced sewers
The straps are sewn properly: It's easy to forget them when you're making bras, but if you don't sew them correctly then the bra won't function properly
The underwire casing is sewn properly: Underwires can really mess up a bra if they're not positioned correctly
The band is the right length: There are some tricks for getting this right without measuring tape or rulers
And that's just for making one bra! Sewing bras isn't hard in the sense that it's technically challenging, but it takes work to get it right. And even then you might have problems with the fit. That said, with practice it does get easier so keep practicing!
Mistakes That You Will Possibly Do While Sewing Your Lingerie
A lot of people who decide to do their own lingerie sewing end up making a few mistakes at first. The most common one is not being able to fit their garments properly. Many people have body types that are not compatible with the patterns they have used for their handmade garments. In order to prevent this from happening, it is important to know your measurements before starting the project. Here you can find our blog about how to measure yourself. That way, you will be able to adjust the pattern accordingly if necessary.
It's also very important that your fabric matches the pattern that you have chosen for your garment. When you buy your fabric, remember that pattern pieces may need additional width added so they can be cut out correctly. As a beginner, we recommend using a fabric with a plain color, such as white or nude. This way, if there are any mistakes made during sewing, you won't be able to see them as easily as if there were printed flowers