The stick on bra is a godsend for women! If you are wearing a backless dress, halter top dress or a strapless top, it's almost impossible to find the perfect bra which fits all of them. But don't worry, for we've got the perfect solution for you – a stick on bra.
With this guide you will learn all about how stick on bra's works
What Is Stick on Bra ?
The Stick on Bra is a strapless, backless bra that has no straps to go over the shoulders. It's made of medical grade adhesive and sticks to the underside of the breasts.
The company behind this innovation is striving to make women feel confident in their appearance by letting them wear what they want without worrying about what they are wearing.
Adhensive bra's are originated almost 20 years ago by a company that is called Nubra.
Stick-on bras are made of silicone material which means they are very soft and comfortable to wear. They have a sticky surface that keeps them in place by sticking onto the skin or clothes underneath it.
Stick on bras are a great look for backless or strapless dresses, or outfits that reveal in the bust area. These bras give you the same support as a regular bra without being visible.
How To Wear Stick On Bra
Wearing a stick-on bra doesn't need to be risky business. In this step by step guide, we will show you how to wear a stick-on bra properly.
1st Step Is to Clean and Dry Your Skin
Be sure to wash and dry your skin completely before applying the bra. If you apply lotion or body cream on your skin after taking baths or showers, it's best to either skip it while wearing adhesive bras, or use a fragrance-free formula while wearing them. Applying lotion can affect the stickiness of your stick on bras.
2nd Step Is To Place The Bra In The Right Way
If you put your stick on bra in the same way you put your regular bra, it may not give you the support want or it may basicly slip away. Position your cups in a vertical direction, one at a time. Start from the bottom part of your boob while working your way upwards. This will make sure that you get the maximum lift from your stick on bra. Now you are ready to clasp the pins together.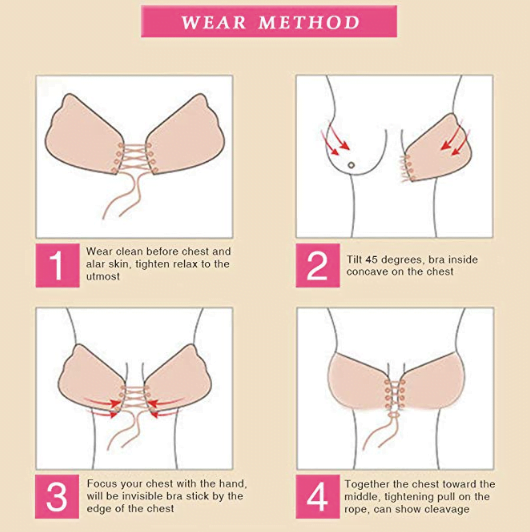 How To Remove The Stick On Bra?
1st step is to fasten the front closure and then you can slowly peel up the bra from the top to bottom. And if you have difficulty to remove the bra try holding a warm, damp cloth over the area for a few minutes to soften the adhesive. And if you have bought a high quality stick on bra it should not cause pain.
How to Wash A Stick on Bra?
If you want to get the most out of your stick-on bra, make sure to wash it properly. Follow this step-by-step guide to ensure that your adhesive stays intact and your bra lasts a long time:
For the longest life and wear, please hand wash your bra in warm water with a hand soap. Be sure to clean the cups after every use and wipe of dirt with soap and water. This will keep your bras usable for years. The material (silicone or polyester) is easy to get off and on, taking no time at all.
Please do not use a towel, hairdryer, or brush to dry.
Cups must dry overnight. Place them on a flat surface like your table or dresser and then leave for drying. Remember to avoid direct sunlight.
Are There Any Health Effects?
The silicone cups which are made with low-quality material may cause rashes on your skin. If you buy a high quality bra, wear and wash them correctly, it should all be good.