Lingerie can be intimidating, especially if you're trying to find the best fit for your body type. We've put together this guide to help you figure out what to look for and how to select the lingerie for your body type. But how do you even start?
Look at yourself in a full-length mirror and think about what your body is like. All bodies are unique and beautiful, so it's important to know what works for yours. Some people love wearing sexy lingerie under their clothes all day long. Others want something that they feel makes them feel good enough to show off in public. Regardless of why you want a new piece of lingerie, there are some tips that will help you find the right one for your body.
There are many different types of lingerie in the world: garter belts and stockings are great for accentuating curves. Bralettes and bustiers can be used to flatter smaller busts; demi-bras offer a little more coverage while still being sexy. The best way to find what you need is to know your measurements so that you can shop with confidence.
Below you can find the guide for finding the right lingerie for your body type
Best Underwear For Apple Shape
Finding the right underwear can be difficult at any body type, but it's especially challenging for the naturally curvy. The key to finding a flattering fit is to look for styles that hug your curves in all the right places.
Clothing for apple-shaped women should accentuate the waist and hips without drawing attention to the thighs. A well-fitting bra—one that gives you good lift and separation—will give your torso definition by minimizing any side bulge.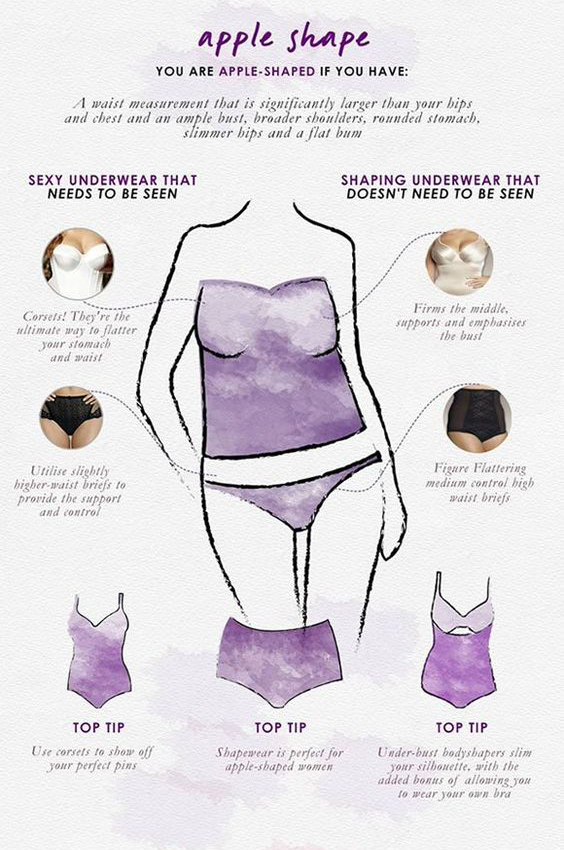 If you're shopping online, pay attention to how much of your figure shown on the model. This can be a good indicator of how much side fat will be noticable on you with a given style.
In terms of underwear, straight leg styles are best for minimizing thigh bulge. High rise cuts are great for creating an illusion of a smaller waist. It's important to find panties that don't cut into your midsection (as they're likely to do if they're too small). They aren't so loose that they create more volume than you'd like in the hips or rear area.
First, avoid anything with lace or other detailing that will draw attention to problem areas. Remember, the goal is accentuation rather than emphasis.
Second, look for choices in shades of brown and black, which will hide your problem areas better than lighter colors.
Third, buy pieces that are more structured. You'll find that the more control they give you over the form of your body. The better they'll hide any imperfections.
Finally, don't neglect your bra and underwear. If you feel good in those under your clothing, it will be easier to feel great about yourself all day long.
Best Underwear For Hourglass Shape
Ladies, you are an hourglass. Those curves that everyone else wishes they had? You've got them, and they're gorgeous. Now, let's talk about underwear, because you've got options.
With your curvy bust and narrow waist, you might be tempted to play up the former with a push-up bra or padded bikini top. But if you want to keep things simple (and comfortable!), there are plenty of options for you as well. T-shirt bras with smooth cups will give you a smooth silhouette under clothes without drawing attention to your chest. Wide band underwire bras will help keep your girls from jiggling all over the place. A popular option for underwear is high-waisted knickers—they'll keep your tummy covered up, but with more coverage and less compression than a full brief or boyshort.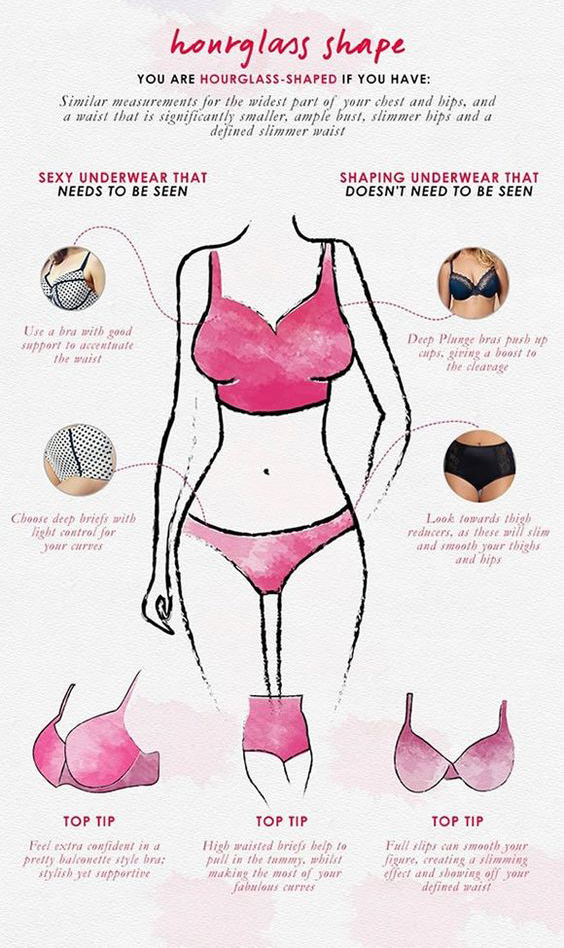 If you like wearing skirts, we recommend choosing shapewear that comes in the form of shorts or full pants. It will give you the smoothing effect of a bodysuit without cutting into your circulation.
Best Underwear For Pear-Shaped Body
If you have a pear-shaped body, you're not alone. There are plenty of other women out there with the same shape. With this body type, your hips and thighs may be curvier while your waist is smaller. This doesn't necessarily mean that you have to wear shapewear or spanx every time you get dressed up to attend an event. There are many styles of underwear that can make your figure appear more balanced, enhancing your appearance instead of hiding it.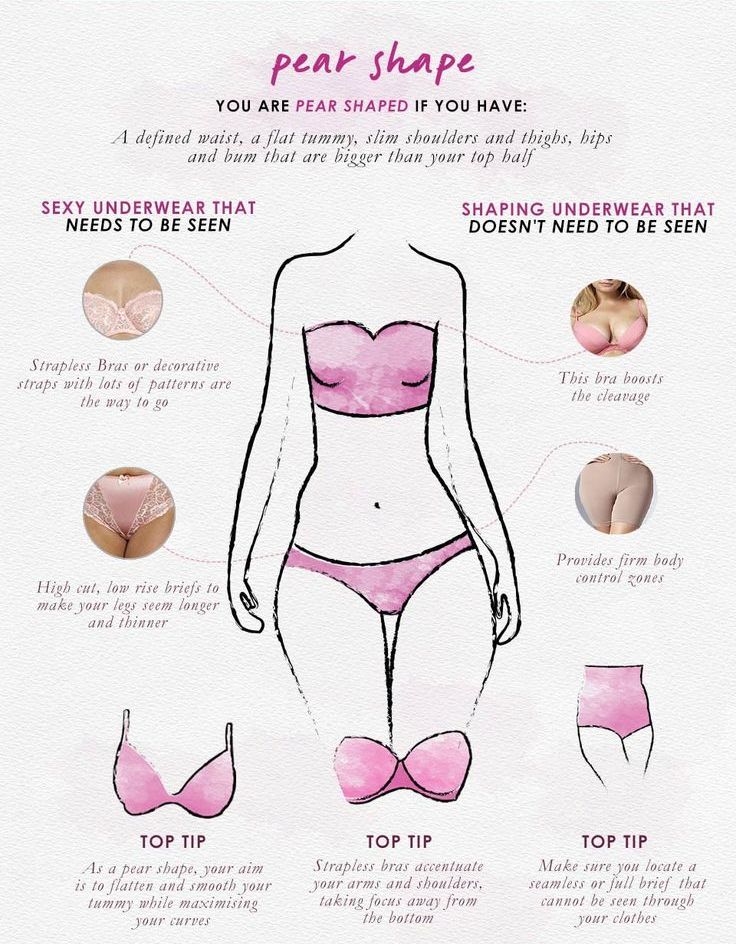 The best underwear for pear-shaped bodies is seamless panties, high waisted briefs, hipster panties and boyshorts. These styles will help to define your waistline and make the transition from the hip area to the thighs look more natural.
The seamless design will not show lines under clothes and this style has become very popular in recent years because of the comfort they provide.
The high waisted brief will cover much of your tummy and take attention away from it. The hipster panty and boyshort will both create some curve at the bottom of your buttocks while showing off the top half.
These styles look good under most clothing and can give you a more proportionate look than wearing no underwear at all or wearing something that only focuses on one area of your body (like a thong). Being well-supported will also make you feel better about yourself and make sure that none of those unsightly bulges make an appearance as you move around throughout the day.
Feel Sexy By Wearing The Lingerie For Your Body Type
In the end, there are lingerie options for every body type. But you want to find the kind of lingerie that flatters your body type and makes you feel good. Whether you need a little more coverage in an area, or a different cut altogether, having the right fit is crucial to looking and feeling your best. And once you have that, you'll realize that every body is beautiful, in its own unique way.